TPP
Plat: 1800€ - 2500€
On-Site
JOB
Position: Support Engineer
Contract type: Full-Time
Location: Bratislava
Salary: From 1.800 EUR/Brutto (based on seniority) + 20% monthly  bonus and  +1-3 mounthly salary  depends  performance
Primary Job Functions:
Provision of remote support for customers with maintenance contract
Proposing solution or workaround of the problem; determining root cause of problem and carrying out corrective action
Cooperating with the developers, authors of the code, smart people with a lot to learn from who care about the customers
Remote deployment of hotfixes on customer systems
Remote update of software on customer systems
Advising end users in using  products
Candidate Experience:
Excellent command of Linux shell and tools (file manipulation, text processing and filtering)
Fair knowledge of TCP/IP and higher level protocols such as SSH, DHCP, NFS, HTTP
Working knowledge of at least one of the following:
hardware installation (industry standard rack servers and equipment, cabling, server technologies)
high-availability clustering based on open-source technologies (DRBD, Pacemaker, RedHat Cluster or similar)
network applications based on open-source technologies (firewall, mailserver, fileserver, …)
Candidate advantages:
Computer training skills/experience
Experience with satellite technology (installing, designing and maintaining)
Business trip experience
…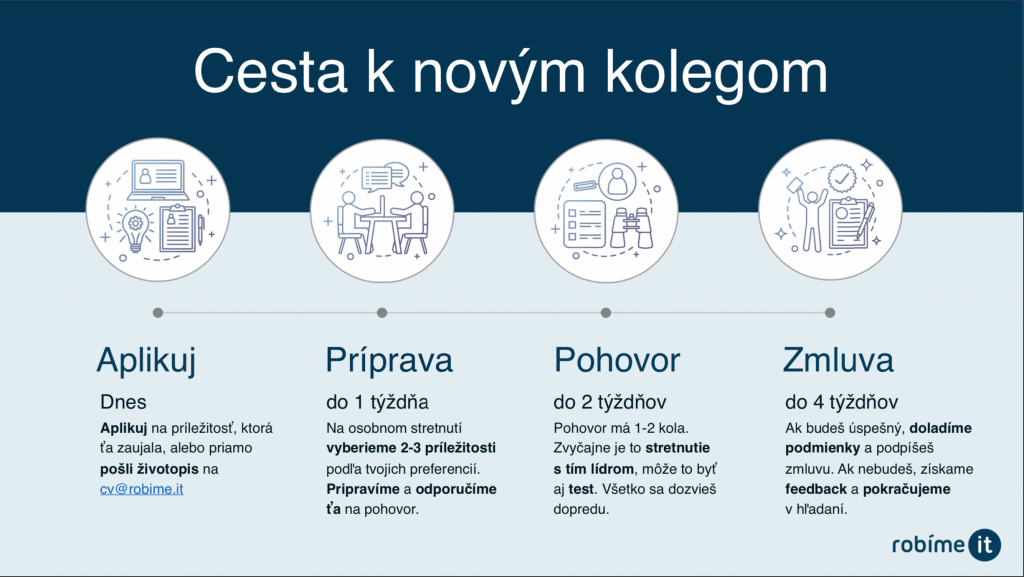 …
robime.it

Nájdeme Ti nových kolegov a prácu, aby si postúpil vo svojej kariére. Tvoja budúca práca má napĺňal tvoje osobné, pracovné a finančné očakávania. Preto pozície budeme vyberať spolu, táto môže byť jedna z nich.
S hľadaním novej práce a s prípravou na celý pohovor ti pomôže Slavomír Bača.
| | |
| --- | --- |
| | 25 rokov v IT. Viac ako 15 rokov v Accenture ako vývojár, technický team leader, architekt a senior manažér. Viedol SW vývoj v Tatra banke. Mentor Partners založil s víziou pomáhať IT profesionálom v ich kariére a podporovať IT komunitu na Slovensku. |
Already at the first interview Slavomir showed to me his interest for me as a person, and this approach lasts now for years. I really enjoy working with him.
Ivan Poliačik, Project Manager
Slavomir has a deep insight into current job situation in IT area. His valuable advice helped me to assess my opportunities in a realistic manner and adjust my expectations.
Martin Hudo, IT Security Specialist
Slavo gave me instruction how to update my CV and advised how to prepare for interview. Practical advice which worked very well.
Martin Antalic, Software Engineer
…
IT038