TPP
Kontrakt
Plat: 1500€ - 3500€
Žiadosti boli uzavreté
JOB
Position: JavaScript / Node.js Programmer
Contract type: TPP, Contract
Location: Bratislava, on-site
Salary: Od 1500 EUR
COMPANY
A stably running US founded startup which has already fundraised, and is now based in Bratislava is growing! Join us and I guarantee you a great time with an awesome team, you will learn new stuff, have impact on the product, possibility to influence the technology decisions and no bureaucracy.
Requirements:
JavaScript – 3 years minimum
HTML and CSS basics
Participation on technology decisions and product improvements
Bug fixing, code reviews and documentation
Benefits
Support of your self-improvement and career growth
International environment (US, UK..)
Flexible work time
Home office possible
Team building events
Free drinks and healthy food
…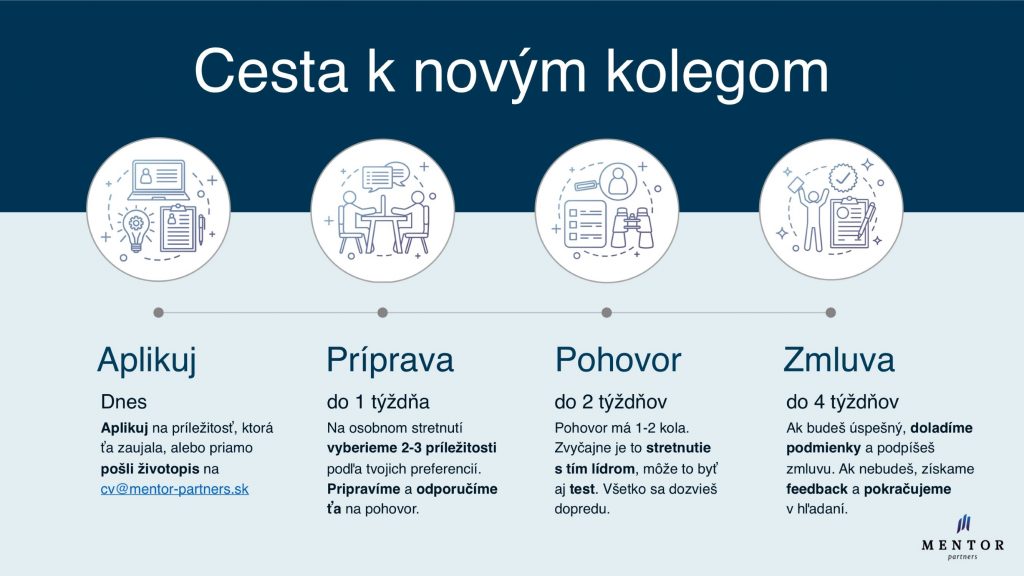 …
Mentor Partners

Pomôžeme Ti nájsť nových kolegov a príležitosti, aby si postúpil o krok dopredu vo svojej kariére. Záleží nám, aby tvoj budúci projekt napĺňal tvoje osobné, pracovné a finančné očakávania. Sme IT-čkári, vieme posúdiť, ktoré príležitosti bude pre teba vhodné a ako správne odporučiť tvoje silné stránky.
I would like to strongly recommend Mentor partners as a great cooperative and professional collaborator. I need to say whole HR team worked very well under the lead of Slavo. I am really grateful I had opportunity to work with him and his team. For my professional carrier this was one of the best contracts which had been significantly managed by him from beginning to end.
Martin Bajla, Oracle Developer
S hľadaním novej príležítosti ti pomôže Slavomír Bača.
| | |
| --- | --- |
| | 25 rokov v IT. Viac ako 15 rokov v Accenture ako vývojár, technický team leader, architekt a senior manažér. Viedol SW vývoj v Tatra banke. Mentor Partners založil s víziou pomáhať IT profesionálom v ich kariére a podporovať IT komunitu na Slovensku. |
Already at the first interview Slavomir showed to me his interest for me as a person, and this approach lasts now for years. I really enjoy working with him.
Ivan Poliačik, Project Manager
Slavomir has a deep insight into current job situation in IT area. His valuable advice helped me to assess my opportunities in a realistic manner and adjust my expectations.
Martin Hudo, IT Security Specialist
Slavo gave me instruction how to update my CV and advised how to prepare for interview. Practical advice which worked very well.
Martin Antalic, Software Engineer
…