TPP
Žiadosti boli uzavreté
On-Site
JOB
Position: DevOps Engineer
Contract type: TPP
Location: Brno
Primary Job Functions:
You will communicate with developers regarding possible errors while cooperating with our IT/infrastructure specialists.
Configuring and deploying security, logging and monitoring services.
Include automating and streamlining build, test, and deployment phases for continuous integration.
Candidate Experience:
Windows Administration – …together with at least basic Linux administration skills
Scripting – Knowledge of Bash and Powershell will come in handy
Containerization – You can get around Docker, Kubernetes…
Benefits:
An exciting company—we work with some of the most innovative brands in the world, and our employees are true professionals
Flexible working hours and opportunity of working from home occasionally
A great team of people who are fair, open-minded and friendly—and always ready to support you as much as possible
International, English-speaking environment and brand-new, modern offices in Brno
Interesting challenges, trainings and other internal opportunities to grow
Fair compensation, bonuses and a comprehensive benefits package
…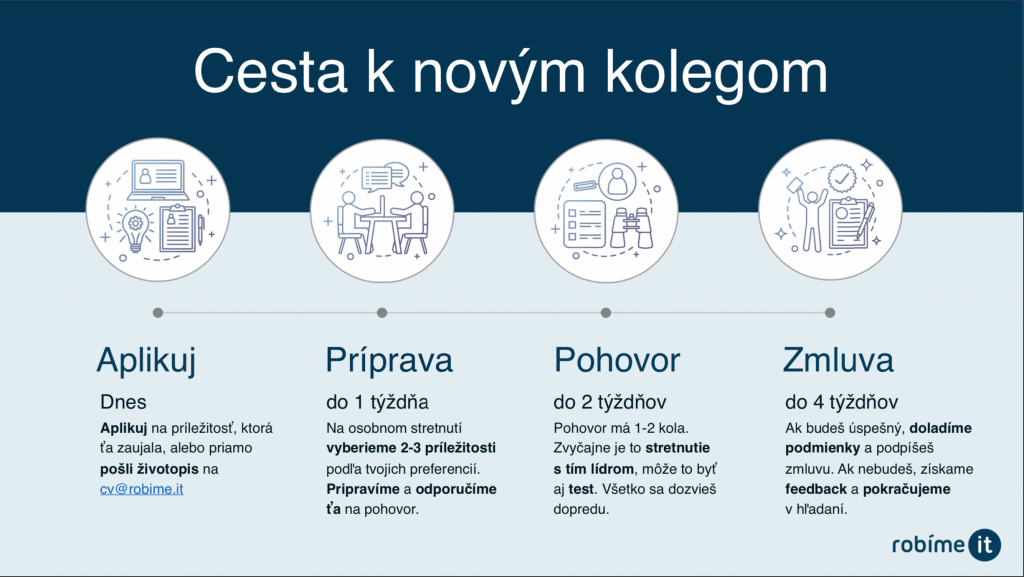 …
robime.it

Nájdeme Ti nových kolegov a prácu, aby si postúpil vo svojej kariére. Tvoja budúca práca má napĺňal tvoje osobné, pracovné a finančné očakávania. Preto pozície budeme vyberať spolu, táto môže byť jedna z nich.
S hľadaním novej práce a s prípravou na celý pohovor ti pomôže Slavomír Bača.
| | |
| --- | --- |
| | 25 rokov v IT. Viac ako 15 rokov v Accenture ako vývojár, technický team leader, architekt a senior manažér. Viedol SW vývoj v Tatra banke. Mentor Partners založil s víziou pomáhať IT profesionálom v ich kariére a podporovať IT komunitu na Slovensku. |
Already at the first interview Slavomir showed to me his interest for me as a person, and this approach lasts now for years. I really enjoy working with him.
Ivan Poliačik, Project Manager
Slavomir has a deep insight into current job situation in IT area. His valuable advice helped me to assess my opportunities in a realistic manner and adjust my expectations.
Martin Hudo, IT Security Specialist
Slavo gave me instruction how to update my CV and advised how to prepare for interview. Practical advice which worked very well.
Martin Antalic, Software Engineer
…