JOB
Position: Mobile Application Server Developer
Contract type: TPP
Location: Bratislava, on-site
Salary: from 2500 EUR
COMPANY
We are one of the largest and most powerful financial groups in Slovakia. With us you have the opportunity to increase your value in the labor market and grow career throughout the financial group. We have special programs for employees with high growth potential.
Responsibilities

design, develop, test, deploy, maintain and improve software
cooperate with business and IT analysts on daily basis
document and share knowledge of delivered solutions
participate in continuous integration and delivery including code reviews
Requirements
experience as a Java software developer (JAVA8), including experience in object-oriented design, problem solving, design patterns
strong knowledge in development of enterprise applications
strong experience with SOAP and REST, experience with Groovy and Grails, Spring framework
experience with writing unit tests, with Java Application Servers (JBoss, Tomcat) and gradle, git, IDEA, CI
knowledge of SQL and database design principles
experience with atlassian products usage (Jira, Confluence, Bitbucket, Bamboo)
essential Linux knowledge
Benefits
opportunity to work in stable financial multinational group
ability of career growth within the financial group
5 extra leave days after working for one year in financial group
employer contribution to third pillar and life insurance
various advantages/discounts in bank/insurance products
sport, education and relax vouchers
…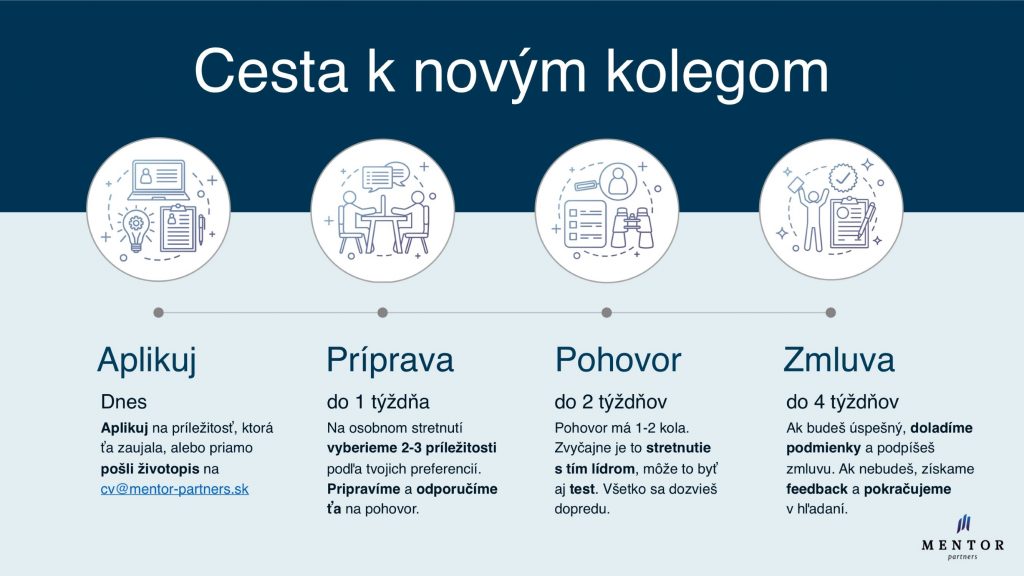 …
Mentor Partners

Pomôžeme Ti nájsť nových kolegov a príležitosti, aby si postúpil o krok dopredu vo svojej kariére. Záleží nám, aby tvoj budúci projekt napĺňal tvoje osobné, pracovné a finančné očakávania. Sme IT-čkári, vieme posúdiť, ktoré príležitosti bude pre teba vhodné a ako správne odporučiť tvoje silné stránky.
I would like to strongly recommend Mentor partners as a great cooperative and professional collaborator. I need to say whole HR team worked very well under the lead of Slavo. I am really grateful I had opportunity to work with him and his team. For my professional carrier this was one of the best contracts which had been significantly managed by him from beginning to end.
Martin Bajla, Oracle Developer
S hľadaním novej príležítosti ti pomôže Slavomír Bača.
| | |
| --- | --- |
| | 25 rokov v IT. Viac ako 15 rokov v Accenture ako vývojár, technický team leader, architekt a senior manažér. Viedol SW vývoj v Tatra banke. Mentor Partners založil s víziou pomáhať IT profesionálom v ich kariére a podporovať IT komunitu na Slovensku. |
Already at the first interview Slavomir showed to me his interest for me as a person, and this approach lasts now for years. I really enjoy working with him.
Ivan Poliačik, Project Manager
Slavomir has a deep insight into current job situation in IT area. His valuable advice helped me to assess my opportunities in a realistic manner and adjust my expectations.
Martin Hudo, IT Security Specialist
Slavo gave me instruction how to update my CV and advised how to prepare for interview. Practical advice which worked very well.
Martin Antalic, Software Engineer
…
B001