JOB
Position: Senior Java Software Engineer
Contract type: Full-time
Location: Bratislava
Salary: 1.600 – 3.200+ EUR/Brutto
Primary Job Functions:
Together with experienced team of Solution Architects and Tech Leads develop financial products on latest technologies
Create high performance production solutions through code reviews via pull requests, high test coverage, static code analysis using SonarQube, performance monitoring and analysis using Kibana and New Relic
Go extra mile, stay up to date with the latest trends in technologies, sharing knowledge with your team and not being afraid in suggesting technical improvements
Candidate Experience:
You will have significant experience with development production systems using Java 8 and Spring ecosystem (Boot, REST, JPA, Data, Integration, Cloud, Security)
Efficient coding, aware of patterns and anti-patterns, properly structured, testable, maintainable, easily comprehensible and well documented clean code
Knowledge of integrations, REST APIs, refactoring, secure coding, application performance monitoring and troubleshooting
Benefits
Fast growing company with various opportunities for personal development and professional career
Working with the newest technologies
4 sick days/ year
Home-Office
Multisport card
Teambuilding activities
Fruit in the office
…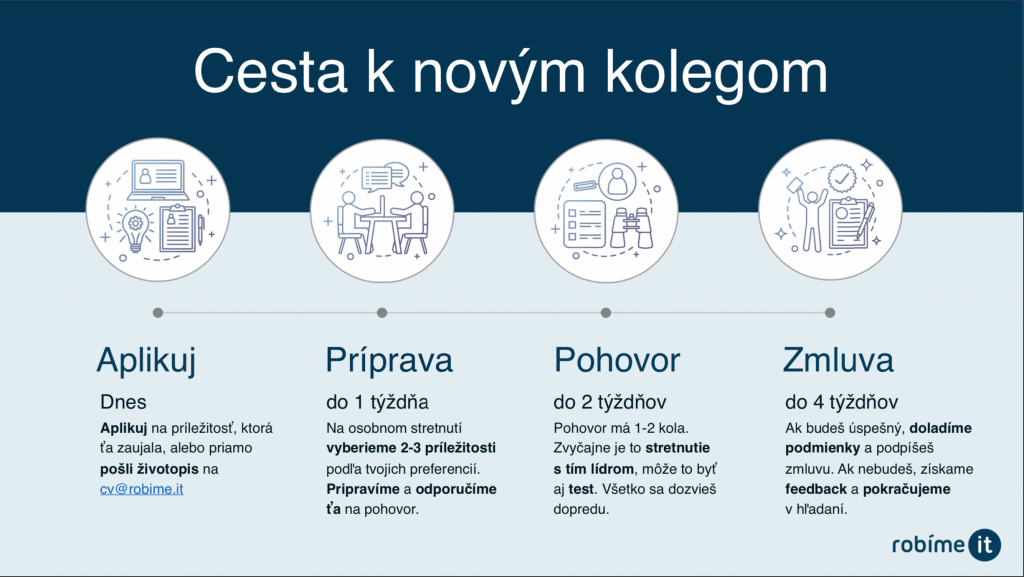 …
robime.it

Nájdeme Ti nových kolegov a prácu, aby si postúpil vo svojej kariére. Tvoja budúca práca má napĺňal tvoje osobné, pracovné a finančné očakávania. Preto pozície budeme vyberať spolu, táto môže byť jedna z nich.
S hľadaním novej práce a s prípravou na celý pohovor ti pomôže Slavomír Bača.
| | |
| --- | --- |
| | 25 rokov v IT. Viac ako 15 rokov v Accenture ako vývojár, technický team leader, architekt a senior manažér. Viedol SW vývoj v Tatra banke. Mentor Partners založil s víziou pomáhať IT profesionálom v ich kariére a podporovať IT komunitu na Slovensku. |
Already at the first interview Slavomir showed to me his interest for me as a person, and this approach lasts now for years. I really enjoy working with him.
Ivan Poliačik, Project Manager
Slavomir has a deep insight into current job situation in IT area. His valuable advice helped me to assess my opportunities in a realistic manner and adjust my expectations.
Martin Hudo, IT Security Specialist
Slavo gave me instruction how to update my CV and advised how to prepare for interview. Practical advice which worked very well.
Martin Antalic, Software Engineer
…
IT003