JOB
Position: Full Stack JavaScript Developer
Contract type: Full-time employee
Location: Bratislava
Salary: min. 1 800€ – depends on skills and experience
Your responsibilities:
Skilled Full stack development as a member of self-organized team with Swiss team cooperation
Implementing new functionalities based on customer requirements
Problem analyses and fixing, debugging, writing unit tests, optimizing and identifying not effective processes
Working with Docker and ping to extend its possibilit
 Using JavaScript in latest NODE.JS, Express.js, AngularJS and HTML5, CSS, MongoDB, MS SQL Server, JSDoc, ESLint, Keystone – CMS, Angular 8, Gatling
You must know:
Very Good knowledge of JavaScript, NODE JS,
Good knowledge of AngularJS / Angular 8 (for future plans)
SQL on basic / intermediate level
Experiences with docker and its configuration
Benefits:
​​Interesting projects based on the newest technologies
Opportunity for self-improvement and career growth
Internal & external software development education and trainings (certifications)
Flexible working time & overtime compensation
5 weeks of vacation, 3 sick days
Language courses
Sport & culture personal ​budget
Fully covered meal vouchers
Newly renovated rooftop of the building for free time activities
Team buildings
Performance Days – two day education & leisure event, sport events, company breakfast etc.)
Well-established community: Inspire Lab, Meet-ups, Brownback Sessions, Running club, Climbing club, Board games club, etc.
…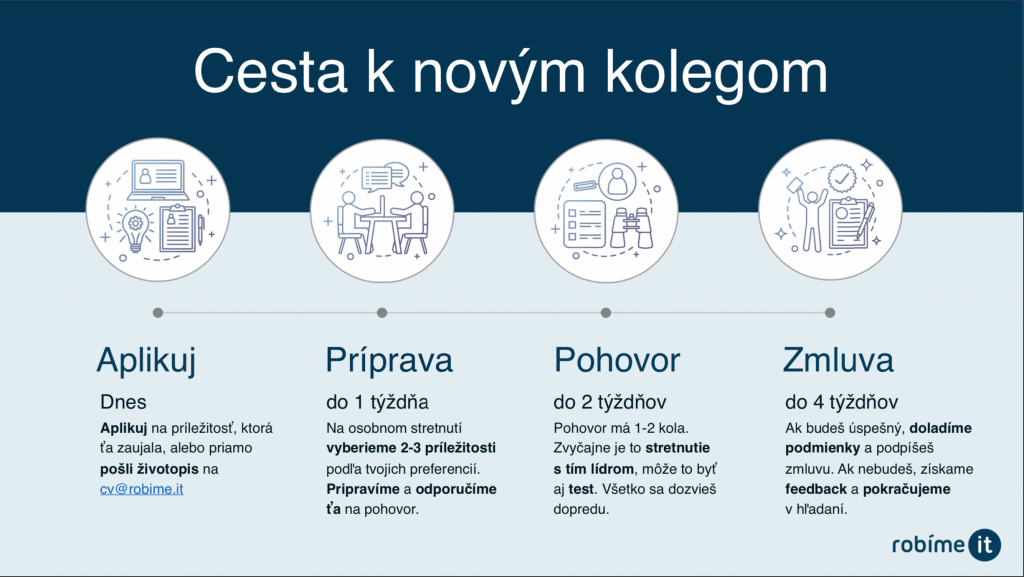 …
robime.it

Nájdeme Ti nových kolegov a prácu, aby si postúpil vo svojej kariére. Tvoja budúca práca má napĺňal tvoje osobné, pracovné a finančné očakávania. Preto pozície budeme vyberať spolu, táto môže byť jedna z nich.
S hľadaním novej práce a s prípravou na celý pohovor ti pomôže Slavomír Bača.
| | |
| --- | --- |
| | 25 rokov v IT. Viac ako 15 rokov v Accenture ako vývojár, technický team leader, architekt a senior manažér. Viedol SW vývoj v Tatra banke. Mentor Partners založil s víziou pomáhať IT profesionálom v ich kariére a podporovať IT komunitu na Slovensku. |
Already at the first interview Slavomir showed to me his interest for me as a person, and this approach lasts now for years. I really enjoy working with him.
Ivan Poliačik, Project Manager
Slavomir has a deep insight into current job situation in IT area. His valuable advice helped me to assess my opportunities in a realistic manner and adjust my expectations.
Martin Hudo, IT Security Specialist
Slavo gave me instruction how to update my CV and advised how to prepare for interview. Practical advice which worked very well.
Martin Antalic, Software Engineer
…
IT043