TPP
Živnosť/sro
Plat: 2500€ - 3000€
Žiadosti boli uzavreté
On-Site
Basic information
Position: Senior Analyst
Contract type: Full-Time employee / Contract
Location: Bratislava, on-site
Salary: 2500 – 3000 EUR/Brutto/ monthly
About company
a global product for companies managing billions of euros
Technical leader in wealth management software, asset management
Human and experienced colleagues
solid salary conditions – the possibility to negotiate a salary at any time directly with the CEO
We develop for markets like UK, Germany, Switzerland, the Middle East or even the USA and Mexico
Typical responsibilities:
understanding of the given sub-domain, gathering and clarification of requirements and priorities, participating on design of the solution on the system specification level
producing of textual specification on system and task level
organising reviews on the given topics, processing the feedback
communicating with the product owner about the status, results and open issues
Requirements:
experienced analyst able to handle and drive medium to big topics from the requirements inception to system specification phase, with support during development, pre-testing and handover to QA phases
ability to focus on user scenarios, understanding true customer needs and their prioritisation
strong drive towards simplification of requirements and solution
About the project:
long term development and extension of our CRM module of a portfolio management system with typically 2 – 3 months cadency
customer oriented scopes, new features
the team consists of 4 analysts, 8 developers, 4 testers; they is segmented by Epic for each release
Benefits:
education – financial support and time allowance
designer office with a central location and parking
Multisport card
extra lunch allowance
special features for cyclists – bike cage, showers and regular team bike trips
working hours 9:30 to 15:30, the rest is flexible
regular team and family events – Mikulas, Children's Day, Christmas party, skiing etc.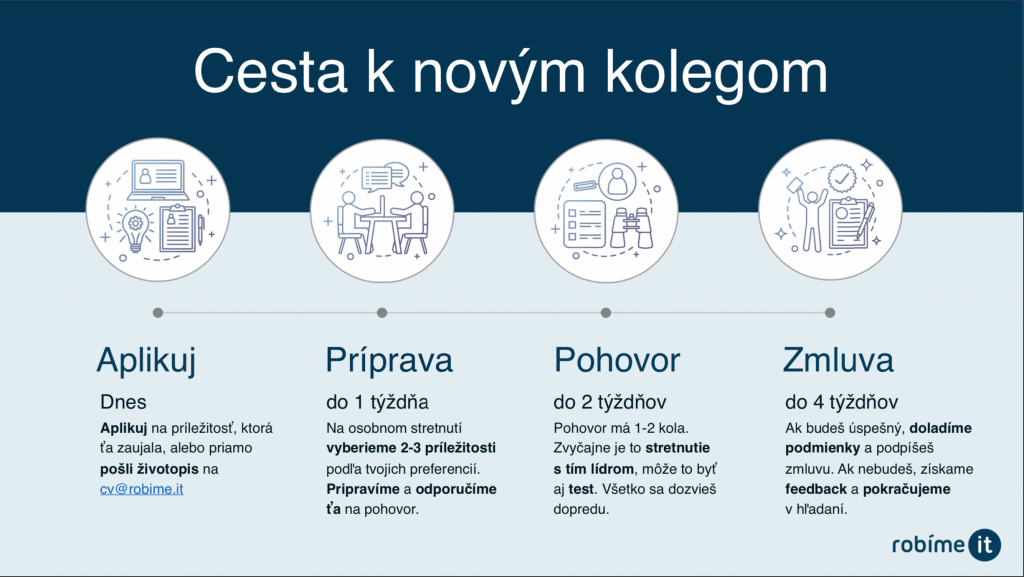 …
robime.it

Nájdeme Ti nových kolegov a prácu, aby si postúpil vo svojej kariére. Tvoja budúca práca má napĺňal tvoje osobné, pracovné a finančné očakávania. Preto pozície budeme vyberať spolu, táto môže byť jedna z nich.
S hľadaním novej práce a s prípravou na celý pohovor ti pomôže Slavomír Bača.
| | |
| --- | --- |
| | 25 rokov v IT. Viac ako 15 rokov v Accenture ako vývojár, technický team leader, architekt a senior manažér. Viedol SW vývoj v Tatra banke. Mentor Partners založil s víziou pomáhať IT profesionálom v ich kariére a podporovať IT komunitu na Slovensku. |
Already at the first interview Slavomir showed to me his interest for me as a person, and this approach lasts now for years. I really enjoy working with him.
Ivan Poliačik, Project Manager
Slavomir has a deep insight into current job situation in IT area. His valuable advice helped me to assess my opportunities in a realistic manner and adjust my expectations.
Martin Hudo, IT Security Specialist
Slavo gave me instruction how to update my CV and advised how to prepare for interview. Practical advice which worked very well.
Martin Antalic, Software Engineer
…
IT045