Živnosť/sro
Kdekoľvek
Plat: od 5000€
Žiadosti boli uzavreté
JOB
Position: Scala Developer
Contract type: Contract, Full time
Duration: long-term
Location: 100% Homeoffice / Work Hours: Local
Rate: 5000+ EUR
Team: up to 10 people (Scala + UI Developers) based in CZ
US startup focused on building a next generation platform to support retail and eCommerce merchants. The technology is founded in the principals of reactive design and micro-services. We are leveraging Lightbend's technologies Lagom and Play, Lucidworks Fusion (Solr, Spark), Cassandra and Kafka as the foundation of our platform.
The implementation will be primarily built in Scala. The end game is a headless, cloud- native, SaaS based platform providing a one-stop-shop for everything a retailer needs to run their business on the technology front.
As one of the developers for our team, you will be implementing key parts of our platform including providing design & implementation guidance across the platform.
Primary Job Functions:
Work with team to push an idea from innovation to deployment with minimal supervision
Mentor developers by utilizing agile practices
Break down high level requirements into more detailed requirements, and then scoping and formulating execution plans with team
Candidate Experience:
6+ years of software development experience and B.S./M.S. in Computer Science or related field
 2+ years of experience serving as a Senior Developer of an engineering team
2+ years of developing in Scala
1+ year of experience with Lagom framework and/or Reactive systems
Expertise with Lucidworks Fusion (or Solr or any enterprise search) systems
Expertise with distributed systems, cloud platforms (e.g. GCP or in-house), NoSQL databases (e.g. Cassandra or others.)
Experience building with Kubernetes
Experience with real time data systems, very comfortable with technologies like Kafka, Spark, etc.
Expert level experience with Scala
…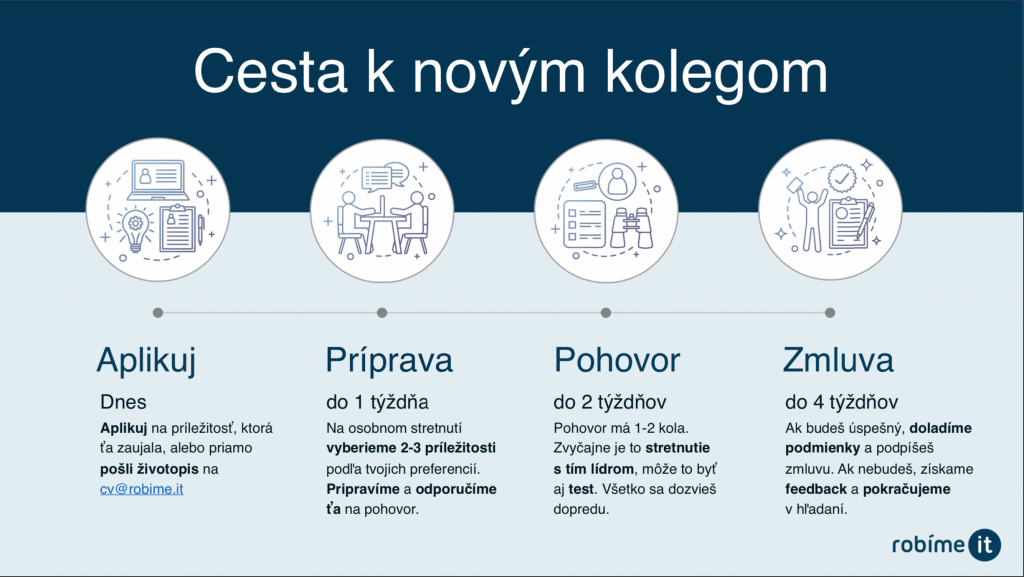 …
robime.it

Nájdeme Ti nových kolegov a prácu, aby si postúpil vo svojej kariére. Tvoja budúca práca má napĺňal tvoje osobné, pracovné a finančné očakávania. Preto pozície budeme vyberať spolu, táto môže byť jedna z nich.
S hľadaním novej práce a s prípravou na celý pohovor ti pomôže Slavomír Bača.
| | |
| --- | --- |
| | 25 rokov v IT. Viac ako 15 rokov v Accenture ako vývojár, technický team leader, architekt a senior manažér. Viedol SW vývoj v Tatra banke. Mentor Partners založil s víziou pomáhať IT profesionálom v ich kariére a podporovať IT komunitu na Slovensku. |
Already at the first interview Slavomir showed to me his interest for me as a person, and this approach lasts now for years. I really enjoy working with him.
Ivan Poliačik, Project Manager
Slavomir has a deep insight into current job situation in IT area. His valuable advice helped me to assess my opportunities in a realistic manner and adjust my expectations.
Martin Hudo, IT Security Specialist
Slavo gave me instruction how to update my CV and advised how to prepare for interview. Practical advice which worked very well.
Martin Antalic, Software Engineer
…