TPP
Plat: 3500€ - 4500€
Žiadosti boli uzavreté
On-Site
JOB
Position: DevOps Architect
Contract type: Full – time
Location: Bratislava
Salary: from 3.500 – 4.500+ EUR/Brutto 
Primary Job Functions:
Design and architect next generation system architecture and automation solutions
Research and evaluation of technologies and building POC on top of them
Building and evolving CI/CD platforms with the goal of moving changes to production faster and safer
Act as a subject matter expert on DevOps best practices
 Experience:
Strong infrastructure experience / 3+ years of the system administrator
Strong background in Linux based systems like Redhat/Centos
Extensive experience in shell scripting and automation using Bash or Python
Experience with configuration management tools: Ansible – preferable
Experience with container orchestration and resource management: OpenShift/Kubernetes, Docker – preferable
Benefits
Competitive salary package
Fast growing company with various opportunities for personal development and professional career
To learn and work on cutting edge technologies in a pleasant, optimistic and enthusiastic international team and a chance to directly influence the workflow
Opportunity to use English on daily bases
Challenging environment where innovative ideas are implemented, supported and highly appreciated
Flexible working time and trust in your own responsibility
Smoothies and fruit
4 sick days/ year
Sporting opportunities
…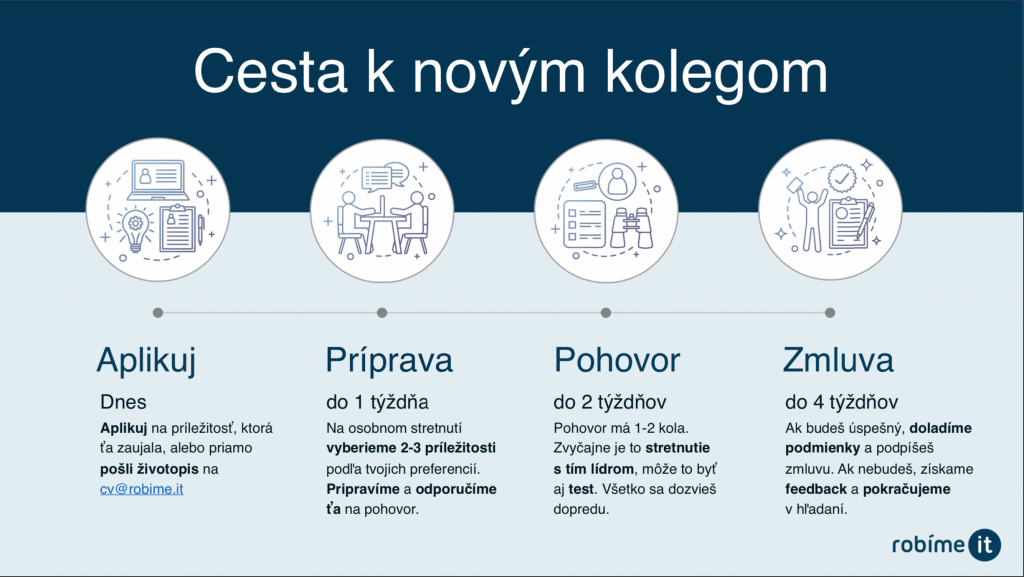 …
robime.it

Nájdeme Ti nových kolegov a prácu, aby si postúpil vo svojej kariére. Tvoja budúca práca má napĺňal tvoje osobné, pracovné a finančné očakávania. Preto pozície budeme vyberať spolu, táto môže byť jedna z nich.
S hľadaním novej práce a s prípravou na celý pohovor ti pomôže Slavomír Bača.
| | |
| --- | --- |
| | 25 rokov v IT. Viac ako 15 rokov v Accenture ako vývojár, technický team leader, architekt a senior manažér. Viedol SW vývoj v Tatra banke. Mentor Partners založil s víziou pomáhať IT profesionálom v ich kariére a podporovať IT komunitu na Slovensku. |
Already at the first interview Slavomir showed to me his interest for me as a person, and this approach lasts now for years. I really enjoy working with him.
Ivan Poliačik, Project Manager
Slavomir has a deep insight into current job situation in IT area. His valuable advice helped me to assess my opportunities in a realistic manner and adjust my expectations.
Martin Hudo, IT Security Specialist
Slavo gave me instruction how to update my CV and advised how to prepare for interview. Practical advice which worked very well.
Martin Antalic, Software Engineer
…
IT003